Reasons to Love the Pantone Fashion, Home + Interiors Color Guide
04 Nov

The Color Guide is the most popular tool from our Pantone Fashion, Home + Interiors product line. It's small and portable, but this hand-held tool packs a lot of punch! More than a comprehensive collection of color, FHI Color Guide also loops you into Pantone's commitment to color, the Fashion, Home + Interiors naming system, and access to our industry-leading digital tools. If you think that's a lot, continue reading to learn more about the FHI Color Guide.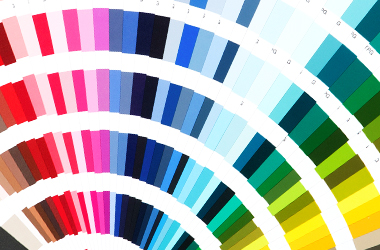 1. AN ENTIRE COLOR UNIVERSE AT YOUR FINGERTIPS
The Color Guide features 2,625 colors curated for Fashion, Home + Interiors, including 315 new colors which were introduced in early 2020. Produced as a lacquered coating on paper, this guide is the go-to color tool for many industries, including hard home, consumer tech, cosmetics, fashion accessories, jewelry, leather goods, ceramics, paint, and other key product categories.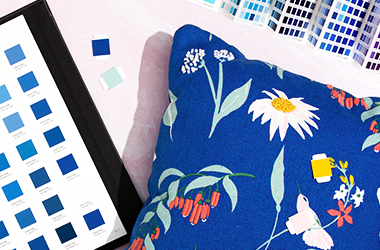 2. THE TOOL THAT GROWS WITH YOU…
Whether you are just starting your design career or just becoming familiar with our Pantone FHI products, this the most affordable tool to begin your collection. The TPG, or "Textile Paper – Green", colors featured in our Color Guide were created as visual complements to the TCX colors in our FHI Cotton System. Start with the Color Guide and then if you are working in soft materials upgrade to our Cotton Passport for a portable catalog of color or our Cotton Chip Set for palette development to improve color accuracy for fabric-based substrates.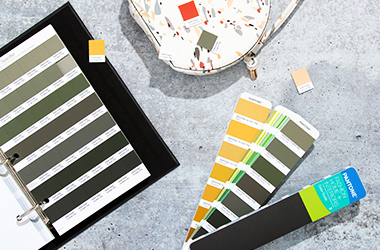 3. SEAMLESSLY INTEGRATES INTO YOUR DESIGN WORKFLOW
This handy, take-along fan format makes it perfect for sample shopping, client meetings, and on-site reviews. Arranged by color family so you can easily locate the colors you need, Color Guide is your complete, comprehensive color library. The Color Guide also pairs with the Color Specifier and Large Paper Swatches to create a total end-to-end solution, from inspiration to final production.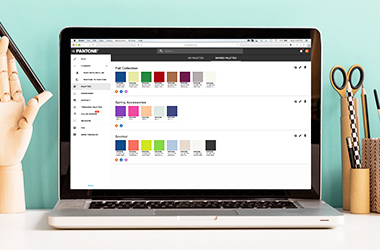 4. ENHANCED DIGITAL SUPPORT
Each Color Guide provides you with access to our newly launched Pantone Connect software, as well as our traditional Pantone Color Manager tool. Use these digital extensions to speed up communication of palettes and color specification with your colleagues or suppliers across the globe.
5. NEVER A DULL MOMENT
Expand your color options by partnering the FHI Color Guide with our Metallic Shimmers Color Guide. Our Metallic Shimmers highlight 200 brilliantly dramatic shimmering effects presented on a palette created especially for color cosmetics, fashion accessories, apparel, footwear, consumer electronics, and home furnishings.