Color Bridge: The Graphic Designer's Best Friend
04 Nov

The Pantone Color Bridge guide is our most versatile color tool – a veritable Swiss Army knife for graphic design. You may be thinking to yourself, "If I already have a Formula Guide, why would I need Color Bridge?" While Pantone's Formula Guide is great for color inspiration, specification, and verification, Color Bridge is like having a secret weapon, helping you see all the ways a Pantone Spot Color can be recreated through other methods.
COMPARE COLORS IN SPOT VS CMYK
At a time when companies and clients are more cost-conscious than ever, it's important to come in on – or under – budget. Using Color Bridge, you can directly compare each Pantone Spot Color with the closest CMYK match, so you can decide when it is acceptable to use budget-friendly process printing, or when you will need to use a spot color to get satisfactory results.
THE COLOR VALUES YOU NEED FOR SCREEN AND WEB DESIGN
One of the features in Color Bridge that is most beloved by designers is the inclusion of the CMYK, sRGB, and HTML/Hex values printed directly underneath each set of color patches. It's a one-stop shop for representing the same color consistently across everything your client does, from business cards and print ads to websites and app design and everything in between.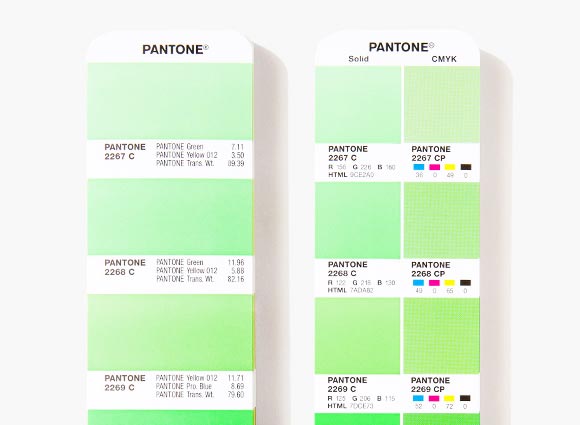 Each Color Bridge includes an extended trial of Pantone Connect, an extension for Adobe® Creative Cloud®, which makes specifying the right Pantone Colors in your design files a breeze. Collaborate with teammates remotely on color palettes, find color matches between Pantone Libraries, and always have the most up-to-date Pantone Colors available directly in your design software – including 5,600 Pantone Colors missing from the built-in Adobe libraries.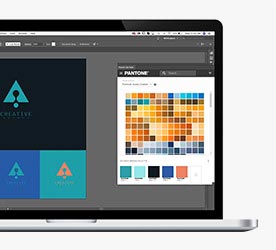 DON'T BE TRICKED BY BAD LIGHTING – USE THE LIGHTING INDICATOR PAGE
Ever fall in love with a color only to get to your desk and find that it looks nothing like you remember? The most likely culprit is color viewed in the wrong lighting. Even if you don't have a Light Booth handy, Color Bridge's easy-to-use Lighting Indicator page helps you figure out what part of your house, office, or even your backyard is the best setting for accurate color evaluation. When the two patches match closely, you're in good light for evaluation. If they look different, you'll know that you should seek better conditions. Never be deceived again!